200mg 5-HTP with Vitamin B6
Made with

USDA Certified Organic Hemp Seed Oil

 
► Neurotransmitter, Stress, Mood & Sleep Support†
► Natural Sleep Aid†
► Extra Strength Timed Release Liquid Softgels†
► Vitamin B6 for Improved Serotonin Conversion†

200mg 5-HTP with Vitamin B6
Made with

USDA Certified Organic Hemp Seed Oil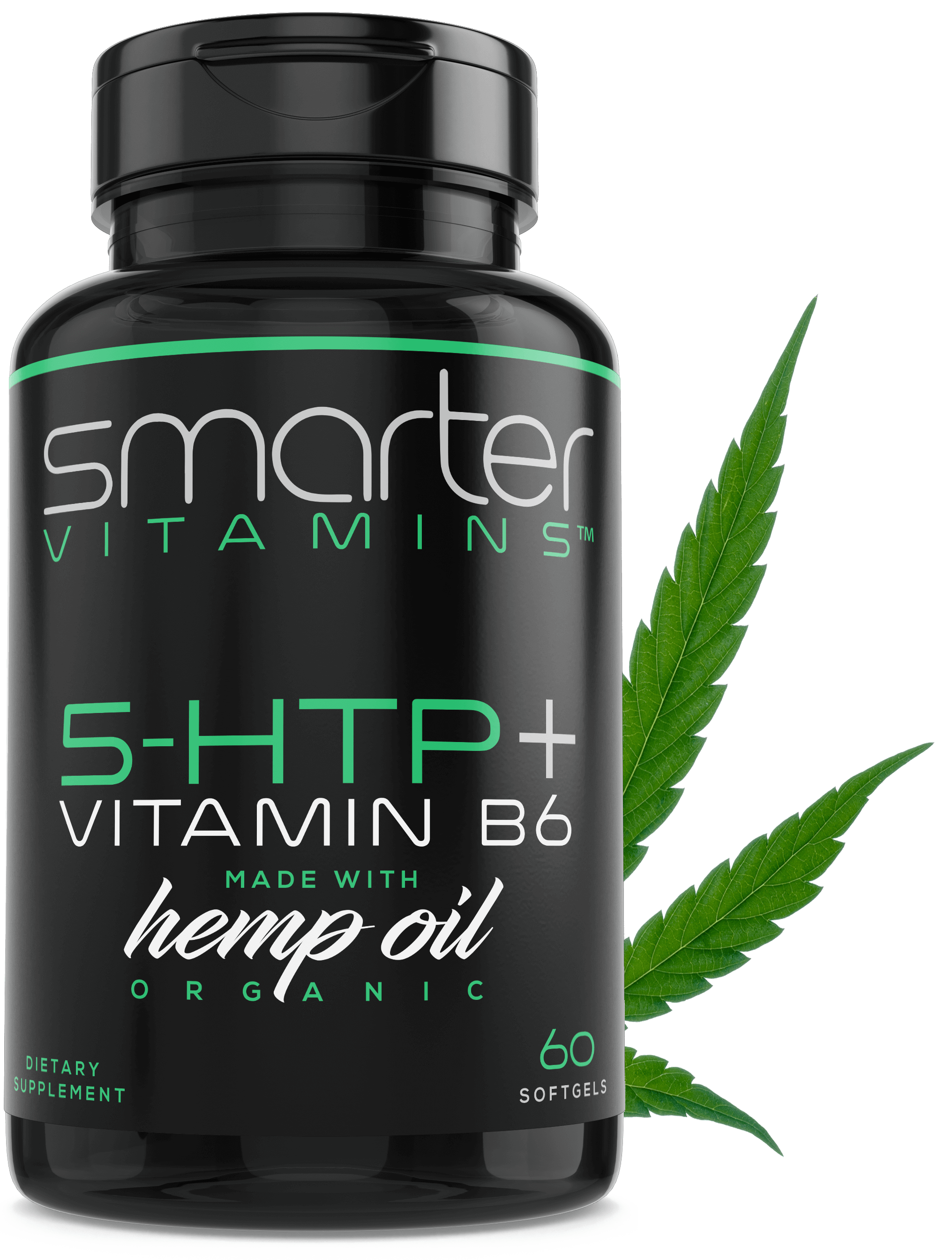 ►Natural Sleep Aid†
►Extra Strength Timed Release Liquid Softgels†
►Vitamin B6 for Improved Serotonin Conversion†
►Neurotransmitter, Stress, Mood & Sleep Support†

200mg 5-HTP with Vitamin B6
Made with

USDA Certified Organic Hemp Seed Oil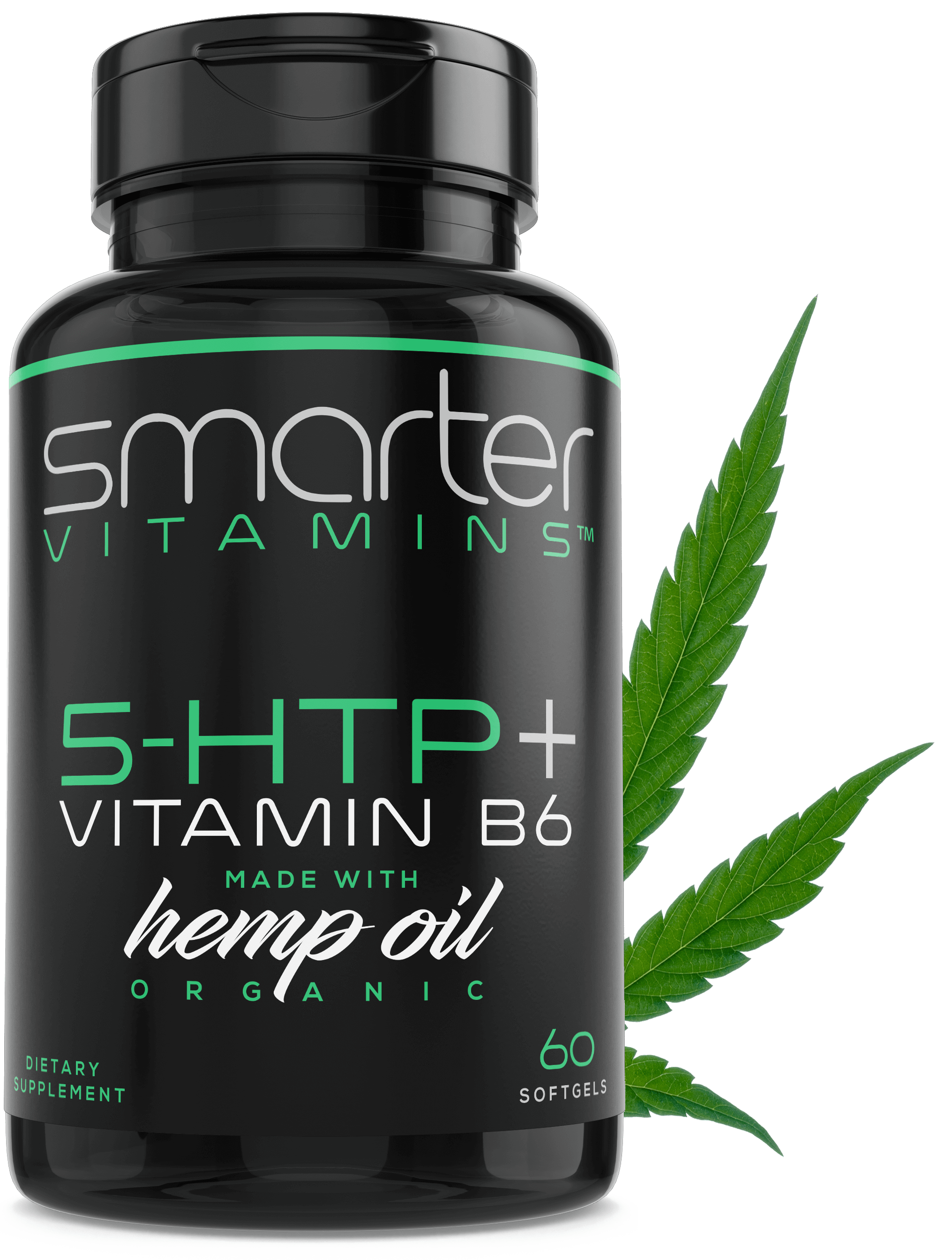 ►Natural Sleep Aid†
►Extra Strength Timed Release Liquid Softgels†
►Vitamin B6 for Improved Serotonin Conversion†
►Neurotransmitter, Stress, Mood & Sleep Support†

MADE IN
California
CLEANER. BETTER. SMARTER.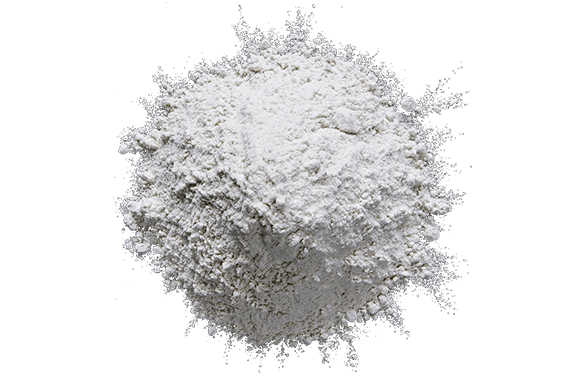 5-Hydroxytryptophan, or 5-HTP, is used to boost serotonin levels.
Smarter 5-HTP is made from the seeds of the African plant Griffonia simplicifolia. 5-HTP boosts mood, regulates appetite, and helps muscular discomfort.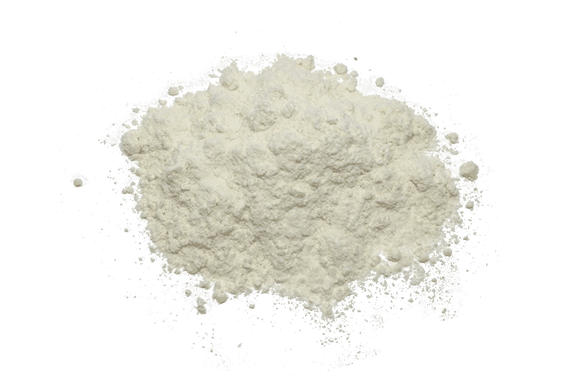 Vitamin B6 is significant to the creation of red blood cells and neurotransmitters. Vitamin B6 also plays an important role in mood regulation. This is partly because this vitamin is necessary for creating neurotransmitters that regulate emotions, including serotonin & dopamine.
Additionally, Vitamin B6 is necessary for 5-HTP to be converted to serotonin.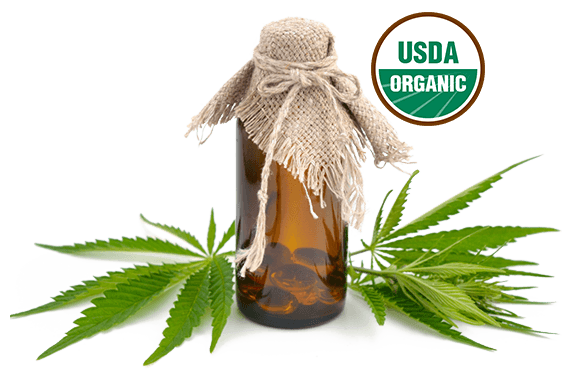 Hemp Seed Oil is a staple food in many societies and provides excellent nutritional value. Hemp Seed Oil is a superfood and very rich in healthy fats, high-quality protein and several minerals.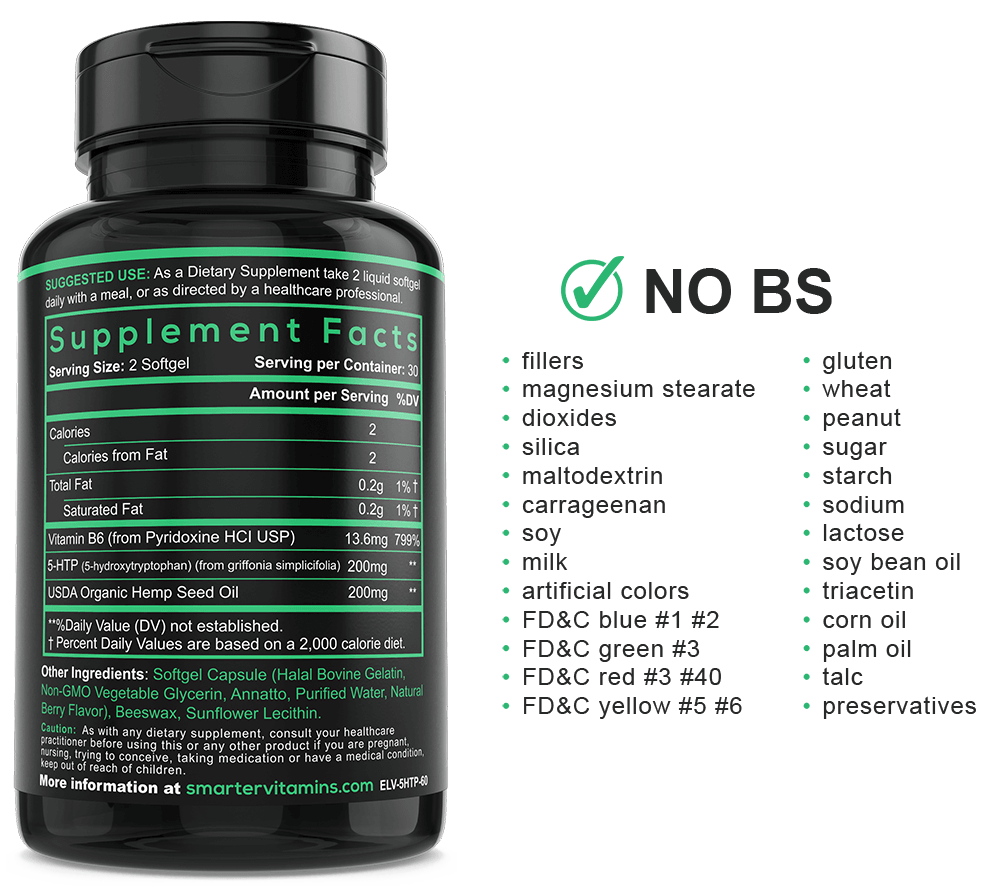 What does Smarter 5 HTP do for your body?
5-Hydroxytryptophan (5-HTP) is an amino acid that your body naturally produces. Your body uses it to produce serotonin, a chemical messenger that sends signals between your nerve cells. Low serotonin levels are associated with depression, anxiety, sleep disorders, weight gain and other health problems.
Should I take Smarter 5 HTP in the morning or at night?
To see how 5-HTP affects you, we suggest you take your first dose after dinner. If you feel sleepy, take 5-HTP at night. Otherwise you can take it during the day; it will still help sleep at night by converting to melatonin.
Does Smarter 5 HTP give you energy?
Another bonus of boosted serotonin levels in the brain is higher energy levels and better stamina. If your lifestyle is particularly hectic, you're sure to benefit from having more energy. Experts believe 5-HTP could help curb cravings for alcohol and carbs which can make us pile on the pounds.
What is Smarter 5 HTP made from?
We use the seeds of Griffonia simplicifolia to produce the Smarter 5-HTP supplement. The body produces serotonin through a series of chemical steps, starting with the amino acid L- tryptophan. One of the chemicals on the way from transforming L-tryptophan to serotonin is 5-HTP.
5 HTP Cautions / Interactions:
May cause mild, but transient GI discomfort. 5-HTP should be used with caution in combination with any serotonergic drug or herb, including SSRIs, MAOIs and St. John's wort. If you are taking any of these medications or if you are planning any surgical procedures, consult your healthcare practitioner prior to using this product. Individuals with a history of cardiac conditions, use only under the direction of your healthcare practitioner. Not recommended for pregnant or nursing women.
Vitamin B6, also known as pyridoxine, is a water-soluble vitamin that your body needs for several functions. It's significant to protein, fat and carbohydrate metabolism and the creation of red blood cells and neurotransmitters. Your body cannot produce Vitamin B6, so you must obtain it from foods or supplements.
What causes vitamin B6 deficiency?
Vitamin B6 deficiency is usually caused by pyridoxine-inactivating drugs (eg, isoniazid), protein-energy undernutrition, malabsorption, alcoholism, or excessive loss. Deficiency can cause peripheral neuropathy, seborrheic dermatitis, glossitis, and cheilosis, and, in adults, depression, confusion, and seizures.
What are the symptoms of low Vitamin B6?
Here are 8 signs and symptoms of vitamin B6 deficiency.
* Skin Rashes.
* Cracked and Sore Lips
* Sore, Glossy Tongue
* Mood Changes
* Weakened Immune Function
* Tiredness and Low Energy
* Tingling and Pain in Hands and Feet
* Seizures
Does Vitamin B6 help you sleep?
For melatonin and serotonin production…
Vitamin B6 aids in the production of the hormones serotonin and melatonin, both of which are important to sound, restful sleep, and also to mood. In studies of older adults, higher intake of Vitamin B6 been connected to lower risk for depression.