L-Theanine and Caffeine vs Adderall: Which Solution is Better for Energy and Focus?
L-Theanine and Caffeine vs Adderall: Which Solution is Better for Energy and Focus?
Do you find yourself struggling to stay focused and energized? Do constant distractions steal your concentration, making even simple tasks seem insurmountable? 
Perhaps you've reached that tipping point, where every extra demand on your cognitive capacity feels like a heavy weight, slowing your stride, and dulling your mind.
In a world that's perpetually switched on, keeping up can feel like running a race with no finish line in sight. We live in an age where mental fog and fatigue are becoming a commonplace malady, pushing many towards cognitive enhancers seeking a solution. 
Perhaps you've considered Adderall, a prescription medication commonly used for conditions like ADHD, but increasingly utilized off-label for its energy and focus-boosting effects. 
Or maybe you've come across the more natural pairing of L-Theanine and Caffeine, praised for its ability to improve cognitive function without the jitters or crashes.
Both these options promise heightened focus, improved productivity, and enhanced mental clarity. But, which solution is right for you - l-theanine and caffeine vs Adderall? You're about to find out.
Below, we'll compare and contrast these two options side by side, helping you determine which belongs in your arsenal. We'll look at which is better for ADHD specifically, along with energy and cognitive enhancement. You'll even learn which is more affordable and has fewer side effects/safety concerns.
But, before we get into all that, let's set the stage a bit and provide a quick overview of caffeine with l-theanine vs Adderall.
Quick Overview of Caffeine With L-Theanine vs Adderall 
Let's first familiarize ourselves with the two contenders - the natural duo of l-theanine and caffeine, and the prescription stimulant, Adderall.
What is an L-Theanine and Caffeine Supplement?
L-theanine and caffeine, quite simply, is a marriage of two potent compounds aimed at boosting your cognitive function. 
l-theanine, an amino acid predominantly found in tea leaves, is celebrated for its calming effects. It soothes the mind without inducing drowsiness, thereby promoting an alert yet relaxed state. 
On the other hand, caffeine, the world's most popular stimulant, invigorates the nervous system, enhancing alertness and reducing the perception of effort.
When combined in a supplement, these two work in synergy to optimize focus, attention, and mental endurance, without the overstimulation or subsequent crash commonly associated with caffeine alone. 
Learn more about the L-theanine and caffeine benefits in our deep dive if you're interested in discovering just how powerful this supplement can be. Otherwise, it's time to introduce the other half of this conversation: Adderall.
What is Adderall?
Adderall, a combination of amphetamine salts, is a prescription medication primarily used to treat Attention Deficit Hyperactivity Disorder (ADHD) and narcolepsy. It works by increasing the levels of certain neurotransmitters in the brain, enhancing focus, attention, and impulse control. 
Due to these effects, it's often used off-label by individuals seeking to boost their cognitive performance. Or, perhaps "abused" is a better word. The black and grey market for Adderall has been growing rapidly as individuals are forced to find a way to keep up with a chaotic world that won't seem to slow down.
You'll find it used in college classrooms and corporate offices everywhere. While there is no denying the fact that it works to increase energy and improve focus, it carries questionable side effects. 
This is the problem that spawned the l-theanine and caffeine vs Adderall debate in the first place, as people are looking for a safer alternative that still delivers results. More on that later. For now, let's take a look at how these two solutions are similar and different. 
Similarities Between the Two Solutions
At the core, both l-theanine with caffeine and Adderall function as cognitive enhancers. They're designed to sharpen your focus, boost energy levels, and improve mental performance. 
Both solutions can be effective tools for those seeking to gain an edge in mental productivity, whether for academic, professional, or personal pursuits. 
However, that's where the similarities between caffeine with l theanine vs Adderall end, and the crossroads forms…
Differences Between the Two Solutions
Despite these similarities, l-theanine with caffeine and Adderall are quite different in their origin, mechanism of action, and potential side effects.
L-theanine and caffeine is a natural, non-prescription supplement that gently boosts cognitive performance by creating a balanced state of relaxation and alertness. This harmony helps avoid the common pitfalls of overstimulation, such as anxiety, restlessness, and the dreaded caffeine crash.
In contrast, Adderall is a powerful pharmaceutical stimulant that dramatically increases certain neurotransmitter levels in the brain. While effective, its usage can come with a host of potential side effects and risks, including dependency, withdrawal, and adverse health effects with long-term use.
Understanding these differences is critical as we delve deeper into our comparison of l-theanine and caffeine vs Adderall. That being said, let's find out which is right for you!
L-Theanine and Caffeine vs Adderall: Which Solution is Right For You?
Choosing the ideal cognitive enhancer is a deeply personal decision. It requires understanding your unique needs, preferences, and health status. Here's how l-theanine and caffeine square up against Adderall on some of the most critical fronts.
Which is Better for ADHD?
Adderall has been extensively studied and FDA-approved for the treatment of ADHD. It can effectively increase focus, decrease impulsivity, and help manage symptoms of ADHD when used under the supervision of a healthcare professional.
However, it's important to note that its potency also comes with potential downsides. Adderall can cause a host of side effects, including insomnia, decreased appetite, mood swings, and even dependency with long-term use. These factors necessitate careful consideration and medical supervision when using Adderall for ADHD.
On the other hand, while l-theanine and caffeine may not have the FDA's stamp for treating ADHD, there's promising research indicating their potential benefits for focus, attention, and calmness - areas of concern for those with ADHD.
Its gentler, more balanced approach to cognitive enhancement, coupled with a far less risk of side effects, makes it an attractive option for those seeking natural alternatives.
Our say on the matter is that it's worth trying l-theanine with caffeine before trying Adderall. You may end up saving yourself the risk of becoming dependent on the prescription drug and dealing with its side effects! That being said, let's look at how these two solutions stack up as it pertains to focus.
Which is Better for Energy and Focus?
When it comes to sheer energy boosting, both Adderall and a l-theanine and caffeine supplement can be effective. Adderall can provide a potent surge of energy and focus. However, it can also lead to a "crash" as it wears off, leaving users feeling drained.
Contrarily, l-theanine and caffeine offer a more sustainable and balanced form of energy enhancement. L-theanine helps smooth out the energy curve associated with caffeine, reducing instances of jitteriness, anxiety, and subsequent energy crash. 
This results in a more steady and prolonged energy lift, perfect for sustained mental efforts. You won't find yourself going through the ups and downs of energy rising and falling.
Note: if you're struggling with mental clarity in particular, you may consider using fish oil for brain fog!
Which is Better for Long-Term Cognitive Enhancement?
While Adderall might seem like a miracle pill for productivity in the short term, its long-term use for cognitive enhancement is controversial. 
Concerns regarding dependency, tolerance (requiring higher doses for the same effect), and withdrawal symptoms make it a less ideal choice for continuous, non-medical use.
Conversely, l-theanine and caffeine supplements are well-suited for regular use. Their natural origins and synergistic interaction make for a safe and sustainable way to enhance cognitive performance over time without the risk of dependency or significant side effects.
Which is Safer and Has Fewer Side Effects?
In terms of safety and side effects, l-theanine and caffeine come out ahead. The combination is generally well-tolerated, with minor potential side effects such as restlessness or upset stomach in rare instances.
In contrast, Adderall carries a risk of more severe side effects, including increased heart rate, high blood pressure, sleep disturbances, loss of appetite, and mood changes. 
There's also a potential for dependency and withdrawal symptoms with prolonged use, making it a solution best reserved for those with a medical necessity.
Which is More Affordable?
Lastly, on the front of affordability, l-theanine and caffeine supplements typically offer better value. They're readily available without a prescription at a fraction of the cost of Adderall. In just a few moments, we'll even show you where you can find the best of the best at a fraction of the price of an Adderall prescription. 
Adderall, being a prescription medication, can be quite costly without insurance coverage, presenting a financial hurdle for many individuals. Even with insurance coverage, you may discover that it's priced higher than a quality l-theanine and caffeine supplement.
So, Which is Better: L-Theanine and Caffeine vs Adderall?
Now, it's time we declared a winner in the l-theanine and caffeine vs Adderall debate. So, which is better? The answer to this question depends on several factors, including your personal health situation, goals, and comfort with potential side effects.
While Adderall can be incredibly effective for those diagnosed with ADHD or narcolepsy, its potent nature and side effect profile make it less desirable for individuals seeking a mild, natural, and sustainable cognitive boost.
L-theanine and caffeine, on the other hand, offer a more balanced and gentle enhancement of cognitive functions. This natural duo boosts both energy and focus while promoting relaxation and reducing the anxiety that can often come with stimulants. 
With its excellent safety profile, affordability, and beneficial effects on long-term cognitive health, the l-theanine and caffeine combination shines as an appealing alternative.
Can You Use L-Theanine and Caffeine to Replace Adderall?
Knowing the winner between caffeine with l-theanine vs Adderall, you may be wondering…can you use l-theanine and caffeine to replace Adderall if you're already using it?
Despite our distaste towards the drug, it's essential to note that if you've been prescribed Adderall for a medical condition like ADHD or narcolepsy, you should not stop taking it or replace it without consulting with a healthcare provider.
However, if you're an individual seeking a natural, safe, and effective boost in energy, focus, and overall cognitive performance, supplementing with l-theanine and caffeine could be a great option. This combination can provide a balanced and sustained cognitive boost, supporting your productivity without the risk of severe side effects or dependency.
Whether you're a student, a professional, or simply someone aiming to get the most out of your mental capabilities, the l-theanine and caffeine combination offers a promising, accessible, and safe way to optimize your cognitive potential. 
Remember, the best solution is always the one that suits your individual needs and contributes positively to your overall health and well-being. And at Smarter Vitamins, you'll find the best caffeine and l-theanine pills online. 
Get Your L-Theanine and Caffeine at Smarter Vitamins and See What a Difference It Can Make in Your Life!
Are you ready to take control of your mental energy and focus? At Smarter Vitamins, we're committed to delivering top-tier, natural supplements that can help you do just that. 
Our caffeine and theanine capsules offer the perfect balance of energy, relaxation, and focus you need to perform at your best. 
Why Smarter Vitamins?
We strive to provide supplements of the highest quality and efficacy. Our l-theanine and caffeine supplement is meticulously formulated using only premium, clinically-researched ingredients. 
The l-theanine we use is naturally derived from green tea leaves, and the caffeine is sourced from coffee beans, providing you with a 100% plant-based product.
We believe that everyone deserves access to natural, effective supplements to support their health and well-being. That's why we're committed to offering our products at an affordable price, making cognitive enhancement accessible for all.
How to Incorporate Our Supplement Into Your Routine
You may have questions over when to take l-theanine - morning or night. Or, maybe you're unsure of the ideal l-theanine and caffeine ratio. Either way, let all that stress melt away. We're here to help.
Integrating our l-theanine and caffeine supplement into your daily routine is simple. Start with one capsule in the morning, preferably with a meal. Monitor your response and, if needed, you can gradually increase to two capsules per day. As with any supplement, consistency is key for optimal results.
As you start to experience the synergistic benefits of l-theanine and caffeine, you'll likely notice a smoother, more focused energy compared to the jolting rush of coffee or strong energy drinks. You'll also likely notice less stress, improved mood, and an overall increase in mental performance. 
If you'd like, you can bolster results with our maca caffeine or our fish oil 1000mg omega 3. Smarter Vitamins is your trusted source for all things human improvement. But, at this point, it's time we brought this conversation on l-theanine and caffeine vs Adderall to a close.
Bringing Our Comparison of L-Theanine and Caffeine vs Adderall to a Close
While both Adderall and l-theanine with caffeine can enhance focus and energy, they do so in very different ways and with different implications for your health and well-being. Only one of these is right for you. And hopefully, this breakdown on caffeine with l theanine vs adderall has shown you why it's the former.
If you're looking for a natural, safe, and non-addictive solution to enhance your cognitive performance, our l-theanine and caffeine supplement is the answer.
At Smarter Vitamins, we're proud to offer a powerful, natural alternative to harsh stimulants. We believe in the power of nature and science working together to enhance our lives. Try our l-theanine and caffeine supplement today and experience the difference for yourself!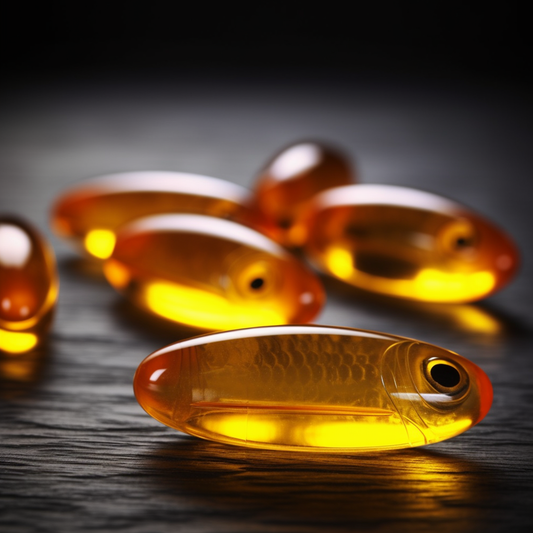 How is Fish Oil Made?
In this comprehensive guide, Smarter Vitamins delves into the intricacies of how...
Get exclusive access to

sales, discounts,

new product launches,

awesome content & more.
We only send emails worth opening.
Once a month or so.