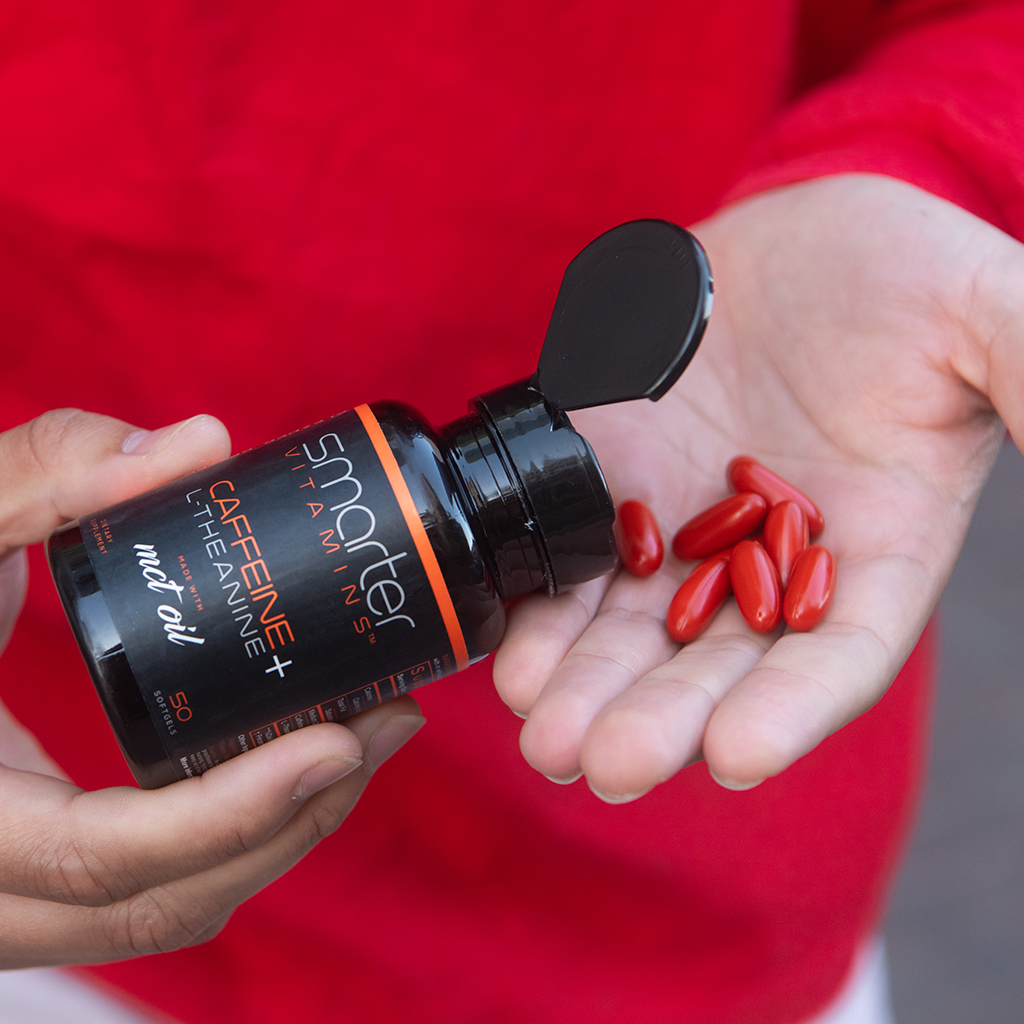 How Much L Theanine With Caffeine? The Ideal Caffeine L Theanine Ratio
How Much L Theanine With Caffeine? The Ideal Caffeine L Theanine Ratio
In the world of health and wellness, few pairings have received as much buzz as that of L-theanine and caffeine. This concoction unites the calm, focus-enhancing properties of a revered amino acid with the stimulating jolt of the world's favorite psychoactive compound. 
You can use this supplement as a boost to your workdays or exercise regimen. Or, you can help find a sense of relaxation after a stressful day. But however you use it, you need to make sure you're using the ideal caffeine l theanine ratio to get the results you're seeking.
So, how much L theanine with caffeine do you need to feel the way you want to feel? Today, we'll help you find out. We'll help you cut through the confusion and find the perfect between these two compounds. 
And, we'll explain why after careful research and development, we've crafted a solution with a 2:1 ratio of 200mg caffeine and 100mg of L-theanine. But, before we get into the details of our formulation, let's talk a bit more about what it can do for you…
The Science Behind Combining L Theanine With Caffeine
While you may already understand the synergy between caffeine and L theanine to a certain extent, we want to pull the curtain back and get you up to speed on what exactly this powerful blend can do for you. In order to do that, we need to introduce each of the two components.
L-Theanine: The Calming Amino Acid
L-Theanine, a non-essential amino acid predominantly found in tea leaves, has long been celebrated for its calming effects. It's capable of crossing the blood-brain barrier and directly influencing brain function. 
One of its main superpowers is increasing levels of GABA, serotonin, and dopamine - the neurotransmitters that play key roles in regulating emotions, mood, concentration, alertness, sleep, and energy. 
Keep that in mind as it'll be really important information in just a moment. Now, let's introduce the other side of the coin.
Caffeine: The World's Favorite Stimulant
Enter caffeine, the stimulant found in coffee, tea, and many energy drinks. Its primary function is blocking adenosine receptors in the brain. 
Adenosine is a neurotransmitter that signals your brain it's time to wind down and sleep. By blocking it, caffeine increases alertness and reduces the perception of fatigue. That being said, what do you get when you merge the two?
Enhanced Focus and Alertness
Imagine being able to tune out the world and focus solely on the task at hand, all while maintaining a high level of alertness. 
That's precisely what the proper L-theanine and caffeine combination can offer. Multiple studies point towards an improved ability to focus attention during demanding tasks.
Caffeine, a known adenosine receptor antagonist, directly enhances alertness. Simultaneously, L-theanine ensures this heightened alertness doesn't teeter into the realm of restlessness. It's like having a spotlight that's both powerful and incredibly focused.
Reduced Jitters and Crash from Caffeine
One of the downsides of caffeine is that it can cause the "jitters" - that uncomfortable, restless feeling - and it often leads to a "crash" afterward. This is where L-theanine steps in. 
Known for its calming effect, it acts like a protective shield, buffering against the jitters and preventing the abrupt caffeine crash.
The result? You get to enjoy the energizing benefits of caffeine without feeling like you've ridden a rollercoaster afterward. It's sustained energy and alertness - no jitters, no crash. 
Improved Mood and Cognitive Performance
Finally, the pairing of L-theanine and caffeine can help foster a better mood and improve cognitive performance. Research has shown that this duo not only sharpens focus but also promotes creativity and improves problem-solving capabilities.
Furthermore, the L-theanine in the mix helps increase dopamine and serotonin levels - two key neurotransmitters that influence mood. So, you're not just more focused and productive, you're happier while doing it.
Understanding these l-theanine and caffeine benefits is just one part of the equation. You need to get the ideal caffeine l theanine ratio to really harness the potential of this combination. So, how much L theanine with caffeine yields the best results? 
How Much L Theanine With Caffeine Is Best?
Whether you're aiming to enhance your focus for work, reduce the jittery feelings associated with your morning coffee, or simply improve your daily mood and cognitive performance, the perfect caffeine l theanine ratio can make a significant difference. 
Of course, the supplement itself (quality) and when you take it (timing) play big roles as well. That being said, how much L theanine with caffeine is best for your unique scenario?
While there's no 'one-size-fits-all' ratio of L-theanine to caffeine, research suggests an optimal range to reap maximum benefits. Numerous studies indicate that a 2:1 ratio of L-theanine to caffeine - such as 200mg of L-theanine to 100mg of caffeine - is beneficial for enhancing cognitive performance and mood.
That said, this isn't a strict rule. Depending on individual factors, this ratio could be slightly tweaked. It's about finding a balance that allows you to enjoy the alertness offered by caffeine, alongside the calming, focusing effects of L-theanine, without undesirable side effects.
Factors Influencing the Ideal Caffeine L Theanine Ratio
Everyone's body responds differently to substances like L-theanine and caffeine, meaning the ideal ratio can depend on a few factors:
Tolerance

: If you're someone who regularly consumes caffeinated beverages, your tolerance may be higher. You may need slightly more caffeine to feel the desired effects.

Metabolism

: Metabolic rate can affect how quickly you process caffeine and L-theanine. Those with faster metabolism might require more frequent or higher doses.

Sensitivity

: Some people might be particularly sensitive to the effects of caffeine or L-theanine. If you're prone to feeling jittery with caffeine or excessively calm with L-theanine, you'll need to adjust your ratio accordingly.

Health status and body weight

: Your overall health and body weight can influence how your body metabolizes these substances.
How Much L Theanine With Caffeine Is in Our Solution?
In line with scientific research, our Smarter Vitamins solution contains a carefully calculated ratio of 200mg of L-theanine to 100mg of caffeine. 
We've crafted our supplement this way to ensure you get the benefits of increased focus, alertness, and improved mood, without the typical caffeine jitters or crash. 
So - if you want to harness the power of our caffeine and theanine capsules, pick up your bottle today and see what a profound difference this supplement can make in your life. 
We'll offer more advice on adding it to your daily regimen in a moment. First, let's talk about adjusting the L theanine caffeine ratio based on your personal tolerance or goals.
Adjusting the Caffeine L Theanine Ratio For Personal Tolerance
While our supplement is designed to suit most individuals, we understand the importance of personalization. If you find that you need a higher dose of caffeine to achieve the desired level of alertness, or you're particularly sensitive to the effects of either component, you may need to adjust your intake.
In such cases, it's crucial to start small and gradually increase your dosage while closely observing your body's responses. Remember, everyone's body is different - what works perfectly for one person may need a slight adjustment for another. It's all about finding the perfect balance for your body and needs.
How to Take Our Caffeine & L-Theanine Supplement
If you're tired of feeling jittery and anxious from caffeine, but can't afford to miss a beat at work or in the gym, then you can benefit from adding Smarter Caffeine to your regimen. 
It's considered the best caffeine and l-theanine supplement by thousands of individuals who have taken a chance on it - and we're confident you'll agree. However, to help you get the most out of our solution, we want to leave you with a few more tips for incorporating it into your daily routine:
Mealtime

: Taking the supplement with a meal can improve absorption and establish a regular routine.

Pair with Other Supplements

: This supplement can be taken alongside your other Smarter Vitamins supplements, such as our

Maca Caffeine

or

Omega 3 Fish Oil

, as part of a holistic approach to wellness.

Consistency is Key

: Like with any supplement, regular use is essential to see the full benefits.
The timing of your caffeine & L-theanine supplement depends largely on your personal goals. That's part of what makes this supplement so special. Its versatility lends itself to helping you achieve a number of different goals.
If you are looking for enhanced focus and alertness for your workday, you may want to take the supplement in the morning or early afternoon. However, if you're aiming for a calming effect to smooth out the edges of your day and transition into a peaceful evening, taking your dose later in the afternoon may be beneficial.
Wrapping Up Our Breakdown of How Much L Theanine With Caffeine You Should Take
In the end, finding the perfect L theanine caffeine ratio depends on your personal needs, goals, and bodily responses. That being said, how much L theanine with caffeine should you take?
The scientifically-backed ratio of 2:1 (200mg caffeine to 100mg L-theanine) in our supplement is designed to deliver the maximum benefits of both ingredients, offering a boost to your cognitive function, mood, and overall daily performance.
Remember, while supplements can play a significant role in supporting your health and well-being, they should be used in conjunction with a balanced diet, regular exercise, and adequate sleep. By taking a comprehensive approach to your health, you can truly harness the benefits of L-theanine and caffeine - and all the other incredible supplements in your arsenal.
At this point, it's time to wrap up our conversation on how much L theanine with caffeine you should take. So, what are you waiting for? If you're ready to experience the transformative power of balanced energy, focus, and calm, our Caffeine & L-Theanine supplement is just a few clicks away!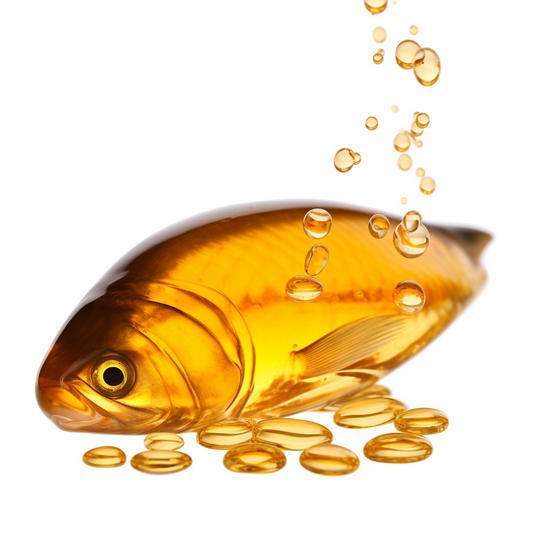 Cod Liver Oil vs Fish Oil: What Are the Differences and Which is Better?
Exploring the health benefits of cod liver oil and fish oil, this...
Get exclusive access to

sales, discounts,

new product launches,

awesome content & more.
We only send emails worth opening.
Once a month or so.