How to Tell if Your Fish Oil is Good Quality
How to Tell if Your Fish Oil is Good Quality
How to Tell if Your Fish Oil is Good Quality
In the vast ocean of dietary supplements, fish oil stands out as a shining beacon of health and wellness. But not all fish oil supplements are created equal. 
The dizzying array of options on the market can be both confusing and overwhelming. And while your intention to nourish your body with the life-enhancing benefits of Omega-3 fatty acids is commendable, it's essential to ensure you're actually getting what you bargained for.
After all, what's the point of wasting your money on under-formulated products that don't work? Or worse, doing more harm than good with a supplement containing heavy metals, radiation, or other toxins? Unfortunately, these are legitimate concerns when taking low-quality fish oil supplements.
We say all this not to scare you, but rather to make you aware of the potential consequences of cheap fish oil. Because it's not all doom and gloom - we're going to teach you how to tell if your fish oil is good quality.
By the end of this article, you'll feel a whole lot more confident in distinguishing between low-quality and high-quality fish oil supplements. Better yet, we'll point you toward where you can find the best quality fish oil supplements online (spoiler alert: right here at Smarter Vitamins).
Before we talk about what to look for in a good fish oil supplement, we need to set the stage and talk about the consequences of adding cheap, low-quality fish oil supplements to your regimen.
The Problem With Low-Quality Fish Oil Supplements
Venturing into the realm of dietary supplements can be a perilous journey, riddled with flashy marketing, cheap imitations, and inferior products. This issue is especially prevalent in the realm of fish oil supplements. 
With their popularity growing exponentially, many companies have jumped on the bandwagon to offer fish oil products at an affordable price. Unfortunately, in the pursuit of profit, the integrity of the product often takes a back seat.
Low-quality fish oil supplements present a multitude of problems that go beyond simply wasting your money. At best, these cheap, low-quality supplements may offer minimal benefits due to low potency, resulting in you needing to take more capsules than necessary to see any effects. 
But it gets worse. Inferior fish oil products can contain harmful contaminants such as heavy metals, PCBs, and dioxins, which can potentially pose significant health risks. 
These supplements are often derived from farmed fish fed with unnatural diets, leading to lower Omega-3 content and an unfavorable Omega-6 to Omega-3 ratio.
Additionally, poor manufacturing processes can lead to oxidized fish oil that not only loses its beneficial properties but may contribute to inflammation and oxidative stress - the very conditions you're trying to prevent! 
And let's not forget about those fishy burps and upset stomachs, notorious side effects of low-quality fish oil supplements. The consequences of low-quality fish oil supplements range from simply not getting the health benefits you're after to introducing potential toxins into your system.
It's therefore crucial to ensure you're investing in a high-quality fish oil supplement. To help you navigate these waters, let's discuss how to identify top-notch fish oil that provides the benefits you seek and avoid the potential hazards lurking beneath the surface of cheaper options.
What Should You Look For in a Good Quality Fish Oil?
We need to define what good quality fish oil is. Before we can teach you how to tell if your fish oil is good quality in the first place. So, what should you look for in a good quality fish oil supplement?
When it comes to selecting a superior fish oil supplement, there are four key indicators of quality that you should be aware of. These are the concentration of EPA and DHA along with the purity, freshness, and sustainability of the supplement.
High Concentration of EPA and DHA
EPA (eicosapentaenoic acid) and DHA (docosahexaenoic acid) are the two most beneficial types of Omega-3 fatty acids found in fish oil. Their health benefits span from enhancing brain function to improving heart health, reducing inflammation, and more. 
Therefore, a high-quality fish oil supplement will have high concentrations of both EPA and DHA. Always check the product label for the amounts of these vital Omega-3s. Many low-quality products may boast a high total Omega-3 content, but upon closer inspection, the amounts of EPA and DHA are often disappointingly low.
Purity: Molecular Distillation and Certifications
Molecular distillation is a process that purifies the fish oil and removes harmful contaminants such as mercury, dioxins, and PCBs. A quality supplement will often state on the label that it has been molecularly distilled. 
Furthermore, look for third-party testing and certifications from reputable organizations like NSF International, IFOS (International Fish Oil Standards), or USP (U.S. Pharmacopeia). These independent bodies test and verify the purity, potency, and safety of supplements, offering an extra layer of assurance.
Freshness: Bottling Process and Expiry Dates
Fish oil is susceptible to oxidation, which can make it rancid and harmful. To ensure the oil's freshness, pay attention to the bottling process and the expiration date. 
Quality manufacturers often use dark bottles and add antioxidants like vitamin E to protect the oil from light and oxidation. The expiry date should be clearly marked, and the product should be used well before this date to ensure optimal freshness and efficacy.
Sustainability: Sourcing and Environmental Impact
The environmental impact of fishing practices is a growing concern. Reputable companies source their fish oil in a responsible, sustainable manner. 
Look for fish oil derived from small, short-lived fish like anchovies and sardines, as these species are less likely to accumulate toxins. Certifications like 'Friend of the Sea' or the MSC (Marine Stewardship Council) can verify a product's sustainability claims.
How to Tell if Your Fish Oil is Good Quality
Unmasking the true quality of a fish oil supplement can seem like a detective's task, but with the right clues, you can quickly assess whether the fish oil you're considering or currently taking is of the desired standard. So, here is how to tell if your fish oil is good quality:
Checking the Label: Decoding the Information
The label of a fish oil supplement can reveal much about its quality. If you already have a bottle of fish oil in front of you and you want to assess its quality, this is where you should start.
A detailed, transparent label will not only list the total amount of fish oil but also the specific amounts of EPA and DHA. Remember, these are the two most potent and beneficial Omega-3 fatty acids. A high-quality fish oil supplement will typically have high levels of both.
Check for any mention of purity and molecular distillation, as well as third-party testing. Some labels might also mention the type of fish used and the source. As we mentioned before, small, short-lived fish like anchovies and sardines are preferable.
Sensory Evaluation: Color, Smell, and Taste
Quality can often be assessed through our senses, too. You can examine the color, smell, and taste of your supplement to determine if it belongs in your regimen.
That being said, what color should fish oil be? Pure fish oil ranges from a natural straw-like color to a light, honey hue. Now, conversely, what does bad fish oil look like? A cloudy or overly dark appearance may indicate the presence of impurities or exposure to oxidation.
Smell is also a good indicator. A faint oceanic or slightly fishy smell is normal, but a strong, rancid odor may indicate that the oil has gone bad. Extremes should alarm you - if it has no odor whatsoever, it's worth questioning potency. But, excessive odor isn't a good sign either.
When it comes to taste, rancidity again is a red flag. While the taste of fish oil isn't necessarily pleasing to everyone, it shouldn't be overly strong or unpleasant.
Assessing the Brand: Reputation, Reviews, and Lab Testing
A reputable brand will have a track record of positive reviews, transparency about its sourcing & manufacturing processes, and a commitment to third-party testing. They will also have good customer service and stand behind their products with a guarantee.
When in doubt, you can always look to the unbiased opinion of an independent 3rd party lab. Any brand not testing its products and proudly displaying or offering those results to you is likely hiding something.
While investigating a brand's reputation may involve a bit of online research, it's a small investment of time that can pay off in terms of health benefits. Trust us - you are worth the work to make sure you're only putting the best of the best in your body.
That being said, you needn't stress about finding a reputable, high-quality fish oil supplement. You can put this concern to bed once and for all at Smarter Vitamin.
If You're Looking for the Best Quality Fish Oil Supplement, Your Search Ends at Smarter Vitamin!
As you navigate the world of fish oil, know that Smarter Vitamins is a brand you can trust. We don't just meet the standards for quality; we exceed them. Let's break down why our omega 3 fish oil 1000mg stands a fin above the rest.
With our fish oil, you're harnessing the power of Triple Strength Omega-3. This isn't just a catchy name - it's a promise of quality and potency. Our supplement is sourced from wild-caught, sustainable fish from the pristine waters of Alaska. Then, it goes through a rigorous filtering process to ensure unparalleled purity and freshness.
What does this mean for you? A lot. For starters, you'll perform at your peak - whether that be in the office, in the gym, or as you run errands. From improved cognitive function and mental clarity to better cardiovascular health and reduced inflammation, our omega-3s can truly transform your overall well-being.
On top of these benefits, our fish oil is also a key player in promoting healthy skin, hair, and nails, supporting joint health, and reducing exercise-induced muscle soreness.
But it's not only about what our product can do for you. It's about the values we stand for. Our fish oil is sustainably sourced and traceable, so you can feel as good about the impact you're making on the environment as you do about the impact on your health.
When you shop with us, you enjoy peace of mind. You can rest assured you're getting the good quality fish oil you deserve because we never cut corners or take shortcuts on our products. 
Our ingredients are best in class and our formulas are uniquely designed to improve human function. That's true of not just our fish oil, but all our supplements. And with all that being said, it's time we wrapped up our conversation on how to tell if your fish oil is good quality. 
Final Thoughts on How to Tell if Your Fish Oil is Good Quality
Navigating the complex world of supplements can be daunting. However, understanding the hallmarks of a quality fish oil supplement doesn't need to be a murky process. 
By considering factors such as EPA and DHA concentration, purity, freshness, and sustainability, you can discern the quality of your fish oil supplement.
Want to learn more about the wide world of fish oil? Explore our blog, where you'll find related articles on topics like how long it takes fish oil to work, or learn about related supplements like the L-theanine and caffeine benefits. 
After all, fish oil is just one piece of the puzzle to living a healthy, happy life - you can bolster your regimen with our caffeine l-theanine pills, vitamin d3, vitamin c capsules, maca caffeine, and more.
But, you came here to learn how to tell if your fish oil is good quality. So for now, we encourage you to put your existing supplement to the test. Does it pass your new quality standards? If not, toss it and upgrade your regimen today at Smarter Vitamins. You deserve the best quality fish oil - don't settle for less.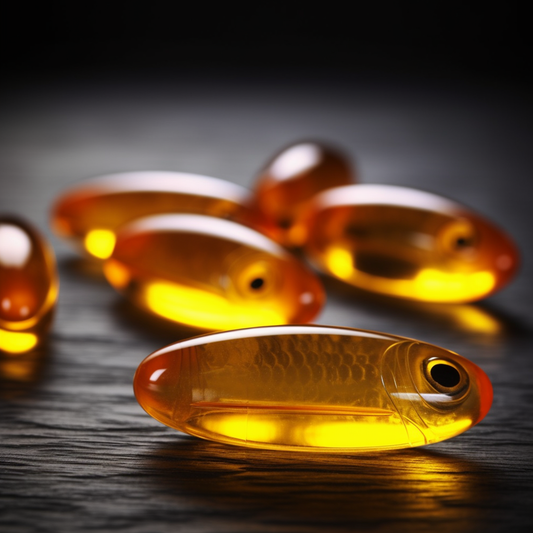 How is Fish Oil Made?
In this comprehensive guide, Smarter Vitamins delves into the intricacies of how...
Get exclusive access to

sales, discounts,

new product launches,

awesome content & more.
We only send emails worth opening.
Once a month or so.