In a world flooded with health supplements, fish oil has managed to secure its spot as a cornerstone of wellness routines. 
Whether you're looking to support heart health, reduce inflammation, or boost cognitive function, the benefits of fish oil are well-documented. But have you ever paused to consider where this potent elixir comes from? Or, how fish oil is made?
As with any supplement, not all fish oil is created equal. In fact, the quality of the fish oil you consume can dramatically impact its efficacy and even raise health concerns, like exposure to heavy metals or harmful additives. It's not just about what fish oil can do for you, but how it's made that truly matters. 
So, how is fish oil made - perhaps more importantly, what separates the best from the rest? As you'll soon discover, understanding the journey from fish to bottle can empower you to make informed choices that uphold both your health and ethical standards. 
But if you just want to enjoy peace of mind knowing you're getting a safe, effective supplement, we'll save you time - you can skip to the good part and reap the benefits of our omega 3 fish oil 1000mg here at Smarter Vitamins. 
More on that later. First, let's talk about why the fish oil manufacturing process matters.
Why it Matters How Fish Oil is Made
Understanding how fish oil is made is a vital factor in the quality of the supplement you consume. From the sourcing of the fish to the extraction and refining processes, each step has implications that can't be ignored.
The Impact on Purity and Potency on Health and Wellness
The purity and potency of your fish oil are directly affected by its manufacturing process. High-quality fish oil is characterized by higher concentrations of omega-3 fatty acids like EPA and DHA, the compounds largely responsible for the supplement's health benefits. 
In contrast, a poor manufacturing process can lead to diluted or even contaminated products. For instance, molecular distillation, a standard process in high-quality fish oil production, removes impurities such as heavy metals and PCBs. 
Without this step, you could be ingesting substances that not only dilute the oil's efficacy but can also be harmful.
The dangers of low-quality fish oil extend beyond reduced efficacy. Consuming a subpar product increases the risk of exposure to harmful substances like mercury, dioxins, and other environmental pollutants. 
Over time, these can accumulate in the body and potentially contribute to various health issues, from neurological disorders to an increased risk of certain cancers. The methods employed in the extraction and refining phases are critical for eliminating these risks.
Ethical and Environmental Considerations
The fish oil market's rapid expansion has brought ethical and environmental issues to the forefront. Overfishing and unethical fishing practices have long-lasting impacts on marine ecosystems. 
As consumers, choosing a product that employs responsible sourcing methods is a step towards sustainability. Certifications like Marine Stewardship Council (MSC) can serve as reliable indicators for responsibly sourced fish oil.
In essence, understanding how fish oil is made is not just about assuring the product's quality; it's also about aligning your purchasing choices with your values. Whether it's purity, potency, safety, or ethics, each factor is a piece of the puzzle that shapes your overall health and well-being. That being said, how is fish oil made?
How is Fish Oil Made?
As you now know, understanding the steps involved in its production can significantly influence your choices as a consumer, from identifying quality products to appreciating the importance of ethical and sustainable practices. So, how is fish oil made?
The Types of Fish Used in Fish Oil
Not all fish are equal when it comes to fish oil production. Generally, cold-water fatty fish like salmon, mackerel, sardines, and anchovies are the go-to species for high-quality fish oil. 
These fish are naturally richer in beneficial omega-3 fatty acids like EPA (Eicosapentaenoic Acid) and DHA (Docosahexaenoic Acid). 
The species of fish used can also serve as a hint toward sustainability, as some fish like mackerel and sardines tend to be more abundant and are less likely to be overfished.
Harvesting and Sourcing
The first step in the journey of a fish oil supplement is, naturally, the fish itself. Where and how the fish are harvested can have both health and environmental impacts. Wild-caught fish often have more natural diets and cleaner environments, translating to higher-quality fish oil. 
However, it's vital to ensure that the fish are sustainably harvested to minimize environmental impact. Certifications like Marine Stewardship Council (MSC) and Friends of the Sea can offer some assurance in this regard.
Extraction Methods
Once the fish are sourced, the oil must be extracted. Two common methods are mechanical pressing and solvent extraction. Mechanical pressing is often considered superior because it doesn't involve chemicals that can contaminate the oil. 
However, some advanced solvent extraction methods can yield high purity if done correctly. Regardless of the method used, the goal is the same: to extract a high concentration of beneficial omega-3 fatty acids while leaving contaminants behind.
Filtration and Purification
Extraction is just the first step in obtaining pure fish oil. After extraction, the oil goes through a series of filtration and purification processes to remove impurities and unwanted components like saturated fats. 
The most reputable brands use methods such as molecular distillation or ultrafiltration to achieve this. These advanced methods not only remove harmful substances but also concentrate the omega-3s, resulting in a more potent supplement.
Concentration
After filtration and purification, the resulting fish oil undergoes a process of concentration. Why does this matter? Concentration levels can significantly affect the efficacy of your fish oil supplement. 
High-concentration oils provide more omega-3s per serving, meaning you can take fewer capsules for the same benefit. The concentration process often utilizes techniques like ultrafiltration or enzymatic concentration to yield products that can contain up to 80-90% pure omega-3s. 
This is an essential point to consider when comparing fish oil products, as higher concentrations usually equate to a higher-quality and more effective supplement.
Encapsulation and Packaging
The encapsulation and packaging of fish oil are pivotal in maintaining the oil's quality and potency. 
Many top-tier fish oil supplements come in dark, UV-protective bottles to prevent oxidation, and some are even nitrogen-flushed to ensure the absence of oxygen, which can degrade the oil. 
Softgels are the most common form of encapsulation and often feature airtight seals to protect against air and moisture. 
Some advanced encapsulation technologies also incorporate an enteric coating, designed to resist stomach acid and ensure that the fish oil is absorbed in the small intestine for maximum efficacy.
Quality Control Measures
Last but definitely not least are the quality control measures in place to ensure that the fish oil meets stringent standards for purity and potency. 
From third-party lab testing to Certificates of Analysis (COAs), leading brands go the extra mile to guarantee their products' quality. These tests check for the levels of heavy metals, PCBs, and other potential contaminants, as well as the concentrations of EPA and DHA. 
More comprehensive quality control will also involve stability testing to ensure that the product retains its potency and purity throughout its shelf life.
By understanding the complex and stringent processes involved in how fish oil is made, you can better appreciate the value of choosing a premium product. And if you want to rest assured you're taking a quality supplement, you can read our guide on how to tell if your fish oil is good quality. 
As mentioned earlier, though, you can eliminate any stress and uncertainty you feel about choosing the right supplement by shopping here at Smarter Vitamins.
Shop at Smarter Vitamins For the Highest-Quality Fish Oil Made Under Strict Standards!
After understanding the intricate and labor-intensive process that goes into making high-quality fish oil, you might be wondering where to find a product that ticks all the boxes - purity, potency, sustainability, and ethical sourcing. 
Look no further than Smarter Vitamins' 1000mg Omega-3 Fish Oil, sourced from pristine Alaskan wild-catch. We've done the hard work for you, and here's why our fish oil stands head and shoulders above the rest.
Sourcing
First and foremost, our fish oil is sourced from wild-caught, sustainable fish from the unspoiled waters of Alaska. Sustainability and traceability are our commitments. 
We ensure that the fish are harvested following the highest ethical and environmental standards, making a product you can feel good about.
Concentration
When it comes to concentration, our Triple Strength Omega-3 supplement delivers a potent dose of essential fatty acids, offering wide-ranging benefits from improved cognitive function and cardiovascular health to reduced inflammation. 
But the advantages don't stop at your internal health. Our fish oil is also excellent for promoting healthy skin, hair, and nails, and it supports joint health while reducing exercise-induced muscle soreness.
Filtration
We use AlaskOmega® fish oil, renowned for its quality and purity, and put it through rigorous filtration and purification. 
Our product is molecularly distilled, a technique that guarantees high-purity EPA/DHA omega-3 fish oils while minimizing the presence of impurities. 
Every bottle is made under cGMP (Good Manufacturing Practice) standards in an FDA-registered facility and is third-party tested for quality assurance.
If you want to learn more about this supplement, explore our blog. We have resources on using fish oil for brain fog, or you can learn how long for fish oil to work. 
You can also discover resources on other supplements we sell, such as the best time of day to take l theanine, how long for maca to kick in, the l-theanine and caffeine benefits, how to stop caffeine jitters, and more. 
From our maca caffeine to our l-theanine and caffeine capsules, and of course, our fish oil, you can rest assured any supplement you purchase at Smarter Vitamins has been made with the strictest quality control standards in mind. With that being said, it's time to wrap up this guide to how fish oil is made.
Wrapping up Our Guide to How Fish Oil is Made
In summary, how is fish oil made? The journey from sea to supplement is a complex one, influenced by various factors that determine the quality of the final product. 
From the sourcing of the fish to the extraction, purification, and packaging, every step matters. Smarter Vitamins takes no shortcuts in delivering you the highest-quality fish oil, setting strict standards at each phase of production. 
And now that you know how fish oil is made, you shouldn't settle for anything less than the best - which is all that we'll ever offer at Smarter Vitamins. 
When you opt for our Triple Strength Omega-3 Fish Oil, you're choosing a product that harmonizes your health goals with ethical and environmental responsibility. 
Trust us to be your partner in achieving a healthier, more vibrant life. Thousands of others have, and they have no regrets - you won't either!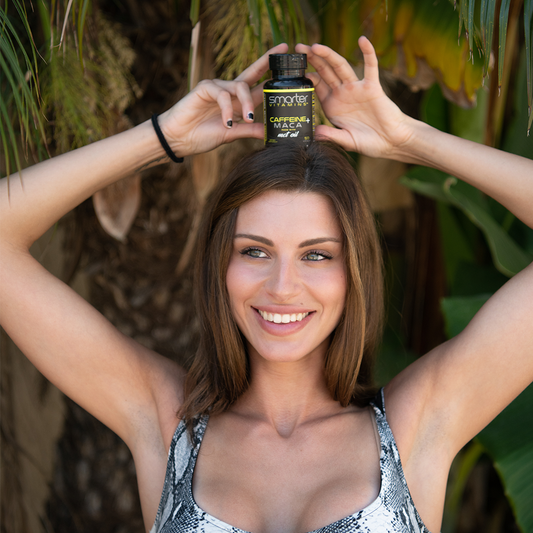 How Does Maca and Caffeine Affect the Brain?
Navigating the labyrinth of cognitive enhancers? Maca and caffeine could be your...
Get exclusive access to

sales, discounts,

new product launches,

awesome content & more.
We only send emails worth opening.
Once a month or so.