How Does Maca and Caffeine Affect the Brain?
How Does Maca and Caffeine Affect the Brain?
Imagine walking into a room and feeling an electric sense of focus and well-being envelop you, as if you've suddenly tapped into a hidden reservoir of mental clarity and emotional balance. 
What if we told you that you're one supplement away from a similar transformative experience? 
Both maca and caffeine have long been touted for their cognitive and physical benefits, but the sum of their parts might just be the game-changer you've been searching for. So, how does maca and caffeine affect the brain? And beyond the cognitive side of things, what can this supplement do to enhance your life?
Whether you're an athlete, a professional, a student, or simply someone looking to enhance your everyday life, this comprehensive guide will unravel the synergies of maca and caffeine and offer practical insights to leverage their combined power. First, do maca and caffeine have the same effect on the brain?
Do Maca and Caffeine Have the Same Effect on the Brain?
Before we can talk about how this dynamic duo works to elevate your cognitive function, it's essential to first understand the unique properties of both maca and caffeine. 
Let's make one thing clear right away - does maca have caffeine? No - while both these compounds are well-known for their stimulant effects, the two substances differ significantly in how they interact with your brain and nervous system. Let's provide a bit more context on the difference between maca vs caffeine below…
Caffeine: The Immediate Booster
Caffeine, most commonly found in coffee and tea, is renowned for its immediate kick. It primarily works by blocking adenosine receptors, which are responsible for promoting sleep and relaxation.
In essence, caffeine keeps you alert by pushing the pause button on your brain's natural mechanisms for winding down.
Maca: The Balancing Act
Maca, on the other hand, is a root that originates from the Andes Mountains in Peru and has been a staple in traditional medicine for centuries. Unlike caffeine, it doesn't provide an instant rush of energy.
Instead, maca works in the background to balance your hormones and neurotransmitters, offering a subtle but sustained lift in mood and mental clarity over time.
The Synergy: Better Together Than Apart
So, do maca and caffeine have the same effect on the brain? The simple answer is no, but that's what makes their combination so compelling.
Caffeine's immediate jolt complements maca's slow burn, creating a state of sustained focus and well-being without the dreaded caffeine crash. That being said, how does maca and caffeine affect the brain?
How Does Maca and Caffeine Affect the Brain?
Navigating the realm of cognitive enhancement can be overwhelming, but understanding how substances like maca and caffeine affect the brain can give you the edge you're seeking. 
As individuals interested in cognitive and emotional well-being, it's crucial to know the science behind these compounds. So let's delve into their effects on focus, memory, mood, and more.
Focus and Attention
Caffeine is often hailed as the 'go-to' for immediate focus and attention. Its ability to block adenosine receptors ensures that the calming effects of adenosine are kept at bay, allowing dopamine and norepinephrine to play a more dominant role. This heightened neurotransmitter activity results in enhanced alertness and concentration., 
Maca's benefits are subtler but equally impactful. Rich in flavonoids, maca can help relieve anxiety and improve cognitive function over extended periods. These effects can facilitate better focus and attention by reducing stress-induced distractions.
When combined, the immediate boost from caffeine is not only amplified but sustained by maca's balancing effects, creating an environment for optimal focus and attention. 
Essentially, caffeine sets the stage, and maca helps maintain it - without letting the caffeine get carried away, so to speak. Learn more in our breakdown of how to stop caffeine jitters. 
Memory and Learning
While it might seem like caffeine is all about instant gratification, studies suggest it can also have medium-term benefits for memory consolidation. According to some research, caffeine can positively influence specific types of memory, particularly those that involve pattern separation.
Maca contains abundant antioxidants like glutathione and superoxide dismutase, which protect your brain cells from oxidative stress and damage. Over time, this protective layer may enhance memory and learning capabilities.
The combined effect of maca and caffeine could mean a more efficient memory and a quicker learning curve. Imagine the immediate cognitive clarity from caffeine coupled with the long-term memory benefits from maca - truly the best of both worlds.
Mood and Emotional Well-being
Caffeine can quickly lift your spirits by increasing the release of 'feel-good' neurotransmitters like serotonin. However, this is usually a short-lived experience and may be followed by a 'crash.'
Maca, rich in phytonutrients, helps in hormonal balance. It can modulate the levels of serotonin in the brain, leading to sustained improvements in mood without the subsequent lows associated with caffeine.
Caffeine spikes your mood, and maca helps sustain it, offering a more balanced emotional state throughout the day. This makes for a more predictable and manageable emotional landscape, which is invaluable in today's fast-paced world.
So, how does maca and caffeine affect the brain? In summary, this dynamic duo can work in synergy to support focus, attention, memory, learning, mood, and emotional well-being. It's a powerful cognitive enhancer. But, what can it do for you beyond boosting brain function?
How Maca and Caffeine Affect the Rest of Your Body (Non-Cognitive Benefits)
While much of the focus has been on the cognitive advantages of combining maca and caffeine, their impact on your physical well-being is equally remarkable. 
From boosting your endurance in physical activities to maintaining hormonal balance and even offering relief from stress and anxiety, the synergy between these two compounds extends well beyond brain function.
Physical Endurance
Caffeine's energy-boosting qualities are well known. This xanthine alkaloid increases the release of adrenaline, preparing your body for 'fight or flight,' thereby improving physical performance. It's why many athletes turn to caffeine before intense physical exertion.
Maca root, traditionally used by ancient Incan warriors before battle, has been found to increase stamina and reduce muscle soreness. Maca's high nutrient density provides the body with needed minerals and vitamins that contribute to sustainable energy release.
Maca root, traditionally used by ancient Incan warriors before battle, has been found to increase stamina and reduce muscle soreness. Maca's high nutrient density provides the body with needed minerals and vitamins that contribute to sustainable energy release.
Hormonal Balance
Maca is often referred to as an 'adaptogen,' meaning it can help the body adapt to stress by balancing hormones. It has been researched for its potential to regulate hormones related to various functions, from fertility to mood.
Caffeine, on the other hand, can have a complex relationship with hormones. It can elevate stress hormones like cortisol temporarily. However, when consumed in moderation and combined with maca, the potential negative impact can be mitigated.
The hormonal balancing effect of maca can help neutralize the hormonal fluctuations often brought on by caffeine, making the combination beneficial for those concerned about hormonal balance.
Stress Relief and Anxiety
Though caffeine boosts alertness, excessive consumption can trigger stress and anxiety symptoms. It's crucial to find the right dosage that uplifts without unsettling you.
Maca's adaptogenic properties come into play again here. It helps your body adapt to stressors and promotes a balanced mood, reducing both stress and anxiety over time.
When dosed correctly, the energizing properties of caffeine are beautifully balanced by the calming effects of maca. This can result in a state of 'alert calmness,' a mental clarity devoid of jitteriness or anxiousness.
How to Harness the Power of Maca and Caffeine Together
So you're convinced of the combined powers of maca and caffeine, and you're eager to start experiencing these benefits for yourself. Excellent! 
The next logical step is figuring out the most effective way to incorporate them into your lifestyle. You've come to the right place - here are some tips on getting started.
Optimal Dosage
Determining the right dosage of maca and caffeine depends on various factors, including age, body weight, and individual tolerance. However, there are some general guidelines that can steer you in the right direction.
For most adults, a moderate dose of caffeine ranges between 100-200 mg per serving. This is roughly equivalent to a cup of coffee. Exceeding 400 mg in a day is generally considered unsafe and may lead to jitteriness, increased heart rate, and other negative side effects.
For maca, a typical starting dose might be around 1,500-3,000 mg per day, divided into two or three doses. Some people may increase this to 4,500 mg for enhanced benefits.
When combined, it's advisable to start at the lower end of the recommended dosages and monitor your body's response. This will enable you to adjust as necessary, helping you find your personal 'sweet spot.'
With the right supplement, there is no need to worry about "guesswork" when finding the ideal dosage. Our maca caffeine supplement has been scientifically formulated in the ideal ratio. More on that in a moment. First, let's talk timing.
Timing for Maximum Benefits
The time of day you consume maca and caffeine can also significantly impact their effectiveness. 
Caffeine is best consumed during periods when you need heightened focus and energy. However, be mindful of the half-life of caffeine, which is about 4-6 hours. Consuming it too late in the day may disrupt your sleep patterns.
Maca can be taken at any time, but some people prefer to consume it in the morning to enjoy sustained energy throughout the day. If using maca for hormonal balance, it might be beneficial to split the dose, taking it in the morning and early afternoon.
Smarter Vitamins: Your #1 Choice for Maca Caffeine Supplements
At this point, you might be thinking - how can I be sure I'm getting the highest quality ingredients? That's where Smarter Vitamins comes into play. 
We have meticulously crafted a supplement that synergistically combines the optimal dosages of maca and caffeine, encapsulated in easy-to-digest, gluten-free capsules. Our maca caffeine undergoes rigorous quality control to ensure purity, potency, and bioavailability. Here's what makes it special:
Quality Ingredients

: We source the finest grade maca and pure caffeine to ensure maximum efficacy.

Scientific Formulation

: Our doses are backed by scientific research to provide synergistic benefits.

Ease of Use

: No need to measure out powders or make elaborate smoothies; just take our supplement as directed, and you're good to go.
Smarter Vitamins not only makes integrating maca and caffeine into your daily routine effortless but also guarantees the powerful benefits you're seeking. Whether your goal is cognitive enhancement, physical vitality, or emotional balance, our supplement is your best ally.
We're also proud to provide the best l-theanine supplement - our l-theanine and caffeine pills. You can even use our fish oil for brain fog or other cognitive enhancements as it's the most trusted omega 3 fish oil 1000mg supplement.
But, you came here looking to learn how maca and caffeine affect the brain. And now that you have a solid grasp on what this tandem can do for you, why not experience the effects firsthand? 
You're just a click away from harnessing the power of maca and caffeine together in one convenient capsule!
Parting Thoughts on How Maca and Caffeine Affect the Brain
In summary, the synergistic effects of maca and caffeine can do wonders for both your cognitive and physical well-being. From sharpening your focus and enhancing memory to boosting your physical endurance and hormonal balance, this powerful tandem offers a broad range of benefits.
Want to learn more about what our supplements can do for you, or what you can expect when using them? Discover the l-theanine and caffeine benefits, which are quite similar to those of maca and caffeine.
You can also learn about the best time of day to take l theanine, how long for fish oil to work, how long for maca to kick in, how to tell if your fish oil is good quality, how much l theanine with caffeine you should take, and the difference between l-theanine and caffeine vs Adderall in our blog.
As you think about how to harness this dynamic duo, consider Smarter Vitamins as your go-to source for the highest-quality Maca Caffeine supplements. 
Why settle for less when you can optimize your health and performance with trusted, scientifically backed products? Elevate your life and choose Smarter Vitamins today!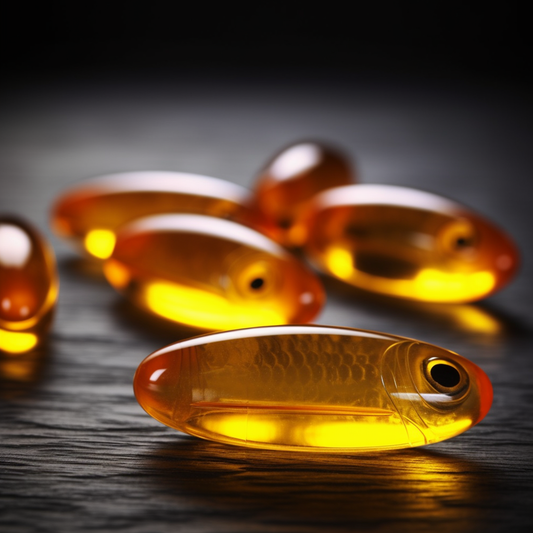 How is Fish Oil Made?
In this comprehensive guide, Smarter Vitamins delves into the intricacies of how...
Get exclusive access to

sales, discounts,

new product launches,

awesome content & more.
We only send emails worth opening.
Once a month or so.